Domain alias is a Top-Level Domain (TLD) or sub-domain that could point to the existing web site. Domain alias has the following differences from domains and sub-domains:
1. You cannot create a web site for domain alias, but you could point it to some existing web site or mail domain. Domain pointer could NOT point to web site based on sub-domain.
2. Instant alias is not added when creating domain pointer.
To add a new domain alias click Add Domain button on the screen with domains list and then click Domain Alias link (if available):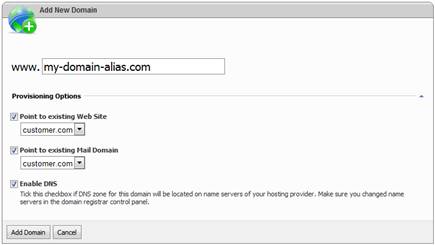 You could select from existing web sites and mail domains to make this domain point to them. Click Add domain button to create a domain alias.