Open Domain properties screen.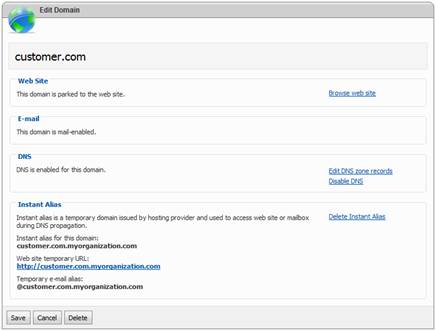 Instant alias section is visible on domain properties screen if two conditions are met:
1. DNS is enabled for your hosting plan.
2. Instant Alias is configured on hosting plan level by your hosting provider.
Instant alias is a temporary sub-domain provided to you by hosting provider in the form your-domain.com.provider-domain.com. Instant alias allows you to access web site or mailbox during DNS propagation. DNS propagation is the time required to spread out the information about your domain across the Internet and it may take up to 48 hours.
If Instant Alias section is available, but alias was not enabled automatically during domain creation you have to click Create Instant Alias button to enable it. Instant alias will be automatically added as a pointer to web site or mail domain created for selected domain.
When DNS propagation is finished and you could access your web site or mailbox using their primary domain you could delete instant alias by clicking Delete Instant Alias button.