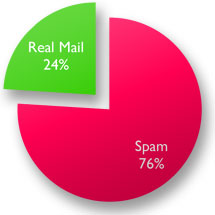 For an average Email Service Provider in North America, Europe and Australasia, today's incoming email traffic consists of approximately 24% legitimate email and 76% spam. [1]

The main problem for mail system administrators is how to filter out the spam while not losing legitimate email, and how to keep mail queues flowing without spam-filter processes slowing the queue. The main problem for ISP executives is also how to do this cost-effectively.

2-Stage Filtering

Using the Spamhaus DNSBLs (SBL+XBL) you we can very safely reject the vast majority of spam at SMTP connect time and before the mail server accepts the message, and most of the remainder of what gets past by checking the IPs of URLs (web sites) advertised in spam against the SBL in a second stage.

Using the setup described below, our tests achieve a catch rate of 299 out of every 300 spams (99.6%) with zero false positives.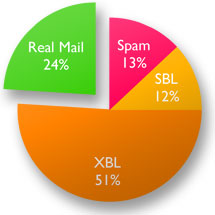 1st Stage

The first stage is the Spamhaus blocklists SBL and XBL on our incoming mail relay(s). These will identify and reject more than half of a normal mail relay's incoming mail traffic (in our research experience approx 63% combined: SBL 12%, XBL 51%). [2]

Incoming mail from servers listed on SBL-XBL at this first stage should be rejected at RCPT TO, terminating the SMTP transaction before the message body is received.

This is cost effective - more than halving incoming mail bandwidth and the subsequent mail queue - and is the safe way to handle message filtering, because in the event a legitimate Sender is ever blocked in error they are immediately notified by the reject notice of the reason why their message could not be delivered as well as what to do and who to contact about it. [3]


2nd Stage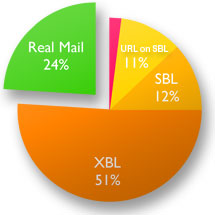 Over 87% of spam contains URLs of spammer web sites whose IPs are listed on the SBL. [4] Therefore the second stage is to scan the 37% of mail which gets past first stage IP filtering, looking for URLs (web site addresses) in the message body and testing their host IPs against the SBL.

This is done by installing an application capable of scanning message bodies for URLs and checking them against the SBL.
We are using SpamAssassin to do the final filtering.

Spamhaus lists the IPs of spammers' web servers and DNS servers, in addition to spam sources in the SBL for this purpose. Spammers may find fresh sources not yet on our DNSBLs, but they have to advertise a web site hosted somewhere.

The final small amount of remaining spam is then caught with further filters within the Merak mail server system, such as DCC or Baysian content filters, to almost completely eliminate spam before it reaches users' mailboxes.